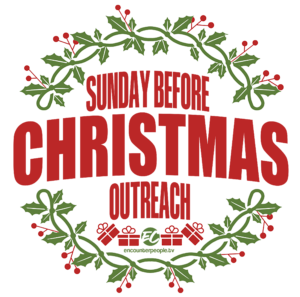 Sunday Before Christmas Outreach
Sunday, December 17 • 10 am
Encounter Church is celebrating its fifth year of hosting the Sunday Before Christmas Outreach event that started in 2019. This event is a way for the Encounter family to serve and give back to our community.
We will have many teams that will go out all over the Wichita Falls area to hand out gift cards, gift baskets and laundry supplies on December 17. This outreach gives the Encounter family an opportunity to pray with people in our community and to show them God's love.
Encounter Church is now collecting $10 gift cards to United/Market Street and Walmart. You can drop gift cards off at the display in the main hall or at either giving station. You can also donate directly to the Sunday Before Christmas fund by writing it on your check or giving envelope or selecting it from the drop down menu when giving online.
For more information on the Sunday Before Christmas Outreach please contact event coordinators Lisa Williams 940-872-0356 or Jim 940-632-5636 and Lynda Bober 940-696-8007 or the church office 940-285-5064.